give
Handmade, Personalized Quilts
A simple, affordable and completely one-of-a-kind gift that enables groups to wrap shared loved ones in support.
Our patchwork quilts feature your drawings, handwritten messages, photos and more, printed on cotton squares and lovingly stitched together.
Our quilts are perfect for…
Welcoming a new baby, celebrating a wedding, or supporting loved ones facing illness or in times of grief.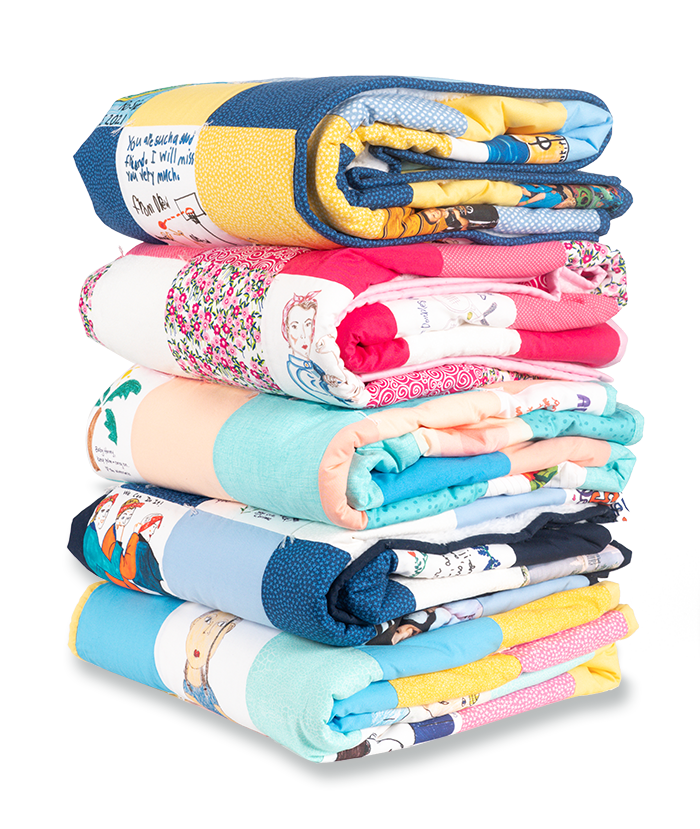 shop
Popular Quiltlove Occasions
Whether to celebrate life events or provide comfort during challenging times, our quilts are meaningful gifts for a range of special occasions.
Step 2
Members of your group individually purchase squares ($25 each) for the patchwork quilt. 15 squares must be purchased for the quilt to be sewn.

Everybody designs their squares on paper and emails photos of their work to Quiltlove.

Step 3
We print your images on fabric squares, sew the quilt together and ship it to your loved one for free, with a card listing the names of everyone who participated. Hooray!
Our commitment
For every 10 quilts we sell, we donate 1 to a child with a serious medical condition.
why
You'll Love Us
It's simple. Once we receive your list of email addresses, we handle all the legwork, making it easy on you and your group. Piece of cake.
It's affordable. Everybody pays their own way, making this group gift very accessible — and nobody has to ask anyone for money.
It's a guaranteed heart-warmer. Whether a loved one is facing a difficult diagnosis, welcoming a baby, or celebrating a major milestone, they will truly feel your love with this one-of-a-kind personalized gift.
Completely Blown Away
Omg. I saw the quilt in person yesterday for the first time. I knew it was spectacular from the pictures but I was completely blown away by the actual finished product. The quality is truly breathtaking. THANK YOU!
– Marsha
Abundance of Heart and Soul
Truly, this has made my day/week/year, even a bit weepy right now. This has an abundance of heart and soul to it that I sit here dumbfounded. Can't express my thanks enough.
– Don
Incredible Treasure
An incredible treasure arrived at my house and I hardly have any words to express how much it means to me. It is truly priceless. The beautiful thoughts, pictures and excerpts have left me speechless and teary!
– Mary
love
Inspiration
Research shows that people are consistently happier to hear from us than we anticipate, especially when the outreach is unexpected. The holidays present a natural opportunity to expand our social connections, for the good of everyone.
When it comes to the ideal Christmas gift, group quilts check all the boxes. Heirloom quality, personalized, affordable and cozy. What's more, for every 10 quilts sold, I donate 1 to a sick child, making your gift that much sweeter.
Spreading the love has never been so cozy.
Check out other groups' quilts, learn about more ways to support your loved ones, and read about our latest news, special offers and partnerships.
Give a personalized quilt
Choose from one of our beautifully curated color palettes or pick your own fabric colors for a truly personalized gift.
Our quilts are made to order, made by hand and made in the U.S.A.
Quiltlove is a member of the Lafayette Chamber of Commerce. Photography by Mark Olesko, Quiltlove and customer submissions.